Handheld Device
CableSniffer²
The CableSniffer2 was originally introduced at the 18th International Conference on Electricity Distribution in 2005 hosted by CIRED. CIRED are the leading forum where the Electricity Distribution Community meets.
Find out more:
More recently, the CableSniffer2 was awarded an 2014 IET Innovation Award held in London on Wednesday 19th November.
Back in 2004, Colin said "it typically costs £600 to £1000 ($1088-$1813) to dig each hole, so a CableSniffer2 unit can easily pay for itself in a single day. Operators who currently have to dig many holes each year to locate underground faults can make significant cost savings. CableSniffer2 has proved so sensitive that we can virtually guarantee 'no reading, no fault' on fresh faults, with a very good chance of locating older faults." 
The CableSniffer™ continues to be No.1 in locating faults in underground LV cables fast. Instead of relying on exploratory excavations, it samples and analyses the gases emitted when cable insulation starts to break down, via a series of 8mm bore holes. Faults can normally be located in under an hour and to an accuracy better than 1 metre, eliminating the need for multiple exploratory excavations. Normally, the highest concentration of gas is directly above the fault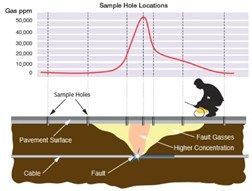 Our customers in the UK have confirmed that the CableSniffer pinpoints problems in underground Low voltage cables much faster and more accurately than any other method.
It is an accurate and reliable instrument that enables the expedient restoration of supplies to customers with far fewer holes in the road with the added bonus of major cost savings in time and materials.
The CableSniffer can work hand in hand with the ALVIN Reclose and VisNet Hub to help find faults quicker.

Enquire now
Thank you for your interest in EA Technology. You can request information for a free callback. One of our experts will be in touch with you shortly.