EA Technology Awards ISO 55001 to New York Power Authority
---
11 November 2019

EA Technology
2019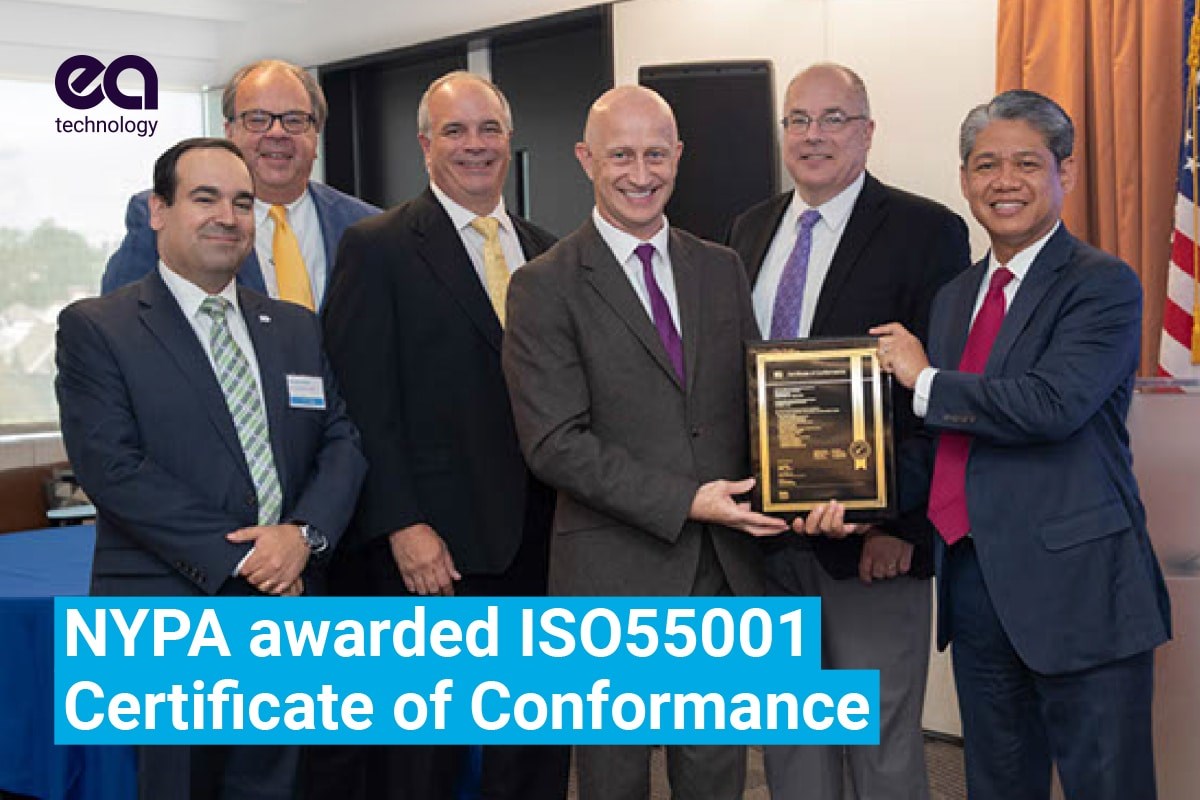 Following its extensive audit of New York Power Authority (NYPA), EA Technology US has awarded the energy utility ISO 55001 certification, the internationally recognised benchmark in asset management systems. This makes NYPA the first electric utility in North America to be certified.
ISO 555001:2014
Part of the ISO 55000 family, ISO 55001:2014 is an international standard that recognises an organization's commitment to developing an efficient, safe and sustainable asset management system, and can only be attained through an independent audit. The standard is based on current best practices and is therefore subject to ongoing modification. With ISO 55001 accreditation, a company benefits from:
enhanced risk management
environmental regulation compliance
trust and confidence of investors and stakeholders
reduced operational costs
a set framework for dealing with subcontractors
a safer environment for employees
EA Technology
Founded in 1966 in the UK, EA Technology is now a global name in the electricity generating industry, both private and public. It develops and supplies hardware and software for monitoring high voltage and low voltage generation, transmission and distribution networks, as well as providing consultancy, auditing services and other asset management solutions that are recognised worldwide.
EA Technology's CEO Robert Davis said:
"We are pleased to certify NYPA to ISO 55001: 2014. During the certification process, NYPA impressed the audit team with commitment to continuous improvement. They should be proud of delivering an outstanding asset management system that will ensure that NYPA and its stakeholders enjoy the benefits of managing their assets to world-class standards.
New York Power Authority (NYPA)
NYPA is the USA's largest state public power utility, covering the whole state, including the city of New York. It was founded in 1931 by Franklin D. Roosevelt, and now generates 70% of its power from hydro-electric installations.
Gil C. Quiniones, NYPA's CEO and President said:
"We're proud to be the first electric utility in North America to achieve compliance with this international standard because it shows we are making quality, long-term decisions daily that directly benefit our customers and the residents of New York. This designation demonstrates that optimal asset management is interwoven in our work culture DNA and strategic plan. It is extremely satisfying to have validation from internationally recognized experts that our hard work is paying off."