Handheld Device
Cable Sniffer
The CableSniffer™ is the go to device for locating faults in underground LV cables and remains the BEST SELLER in its field.
Find out more:
The CableSniffer™ continues to be No.1 in locating faults in underground LV cables fast. Instead of relying on exploratory excavations, it samples and analyses the gases emitted when cable insulation starts to break down, via a series of 8mm bore holes. Faults can normally be located in under an hour and to an accuracy better than 1 metre, eliminating the need for multiple exploratory excavations. Normally, the highest concentration of gas is directly above the fault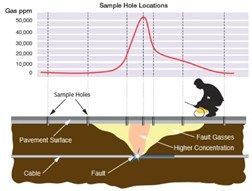 Our customers in the UK have confirmed that the CableSniffer pinpoints problems in underground Low voltage cables much faster and more accurately than any other method.
It is an accurate and reliable instrument that enables the expedient restoration of supplies to customers with far fewer holes in the road with the added bonus of major cost savings in time and materials.
The CableSniffer can work hand in hand with the ALVIN Reclose and VisNet Hub to help find faults quicker.

Get in touch
Thank you for your interest in EA Technology. You can request information or a free callback by clicking the link below. One of our experts will be in touch with you shortly.
Enquire Now