Future Grid Strategic Planning
Devising innovative strategy to help our customers adapt to meet network challenges whilst maintaining low cost and reliable energy distribution for consumers. 
We are witnessing considerable disruption in the power sector arising from a combination of policy, technological and customer change. It is creating a transformation in how we think about, produce and use electricity. The extent of disruption and change in the sector is profound and Distribution Network Service Providers (DNSPs) are in the frontline of the impact that is coming from the rise of distributed energy resources as well as smart grid technology. 
All this translates into several significant trends or new realities in the energy space. It includes a shift from completely centralised generation to more and more decentralised, much of it on the local low-voltage network and with a system set up for one-directional flow now having to cope with the new reality of multi-directional flows. 
This disruptive change inside the power sector also dramatically alters future roles for network companies and future assumptions about their business models. This means that DNSPs will need to revisit their current role and consider their evolution to that of a Distribution System Operator (DSO) so that they adapt to meet these challenges whilst maintaining low cost and reliable energy distribution for customers.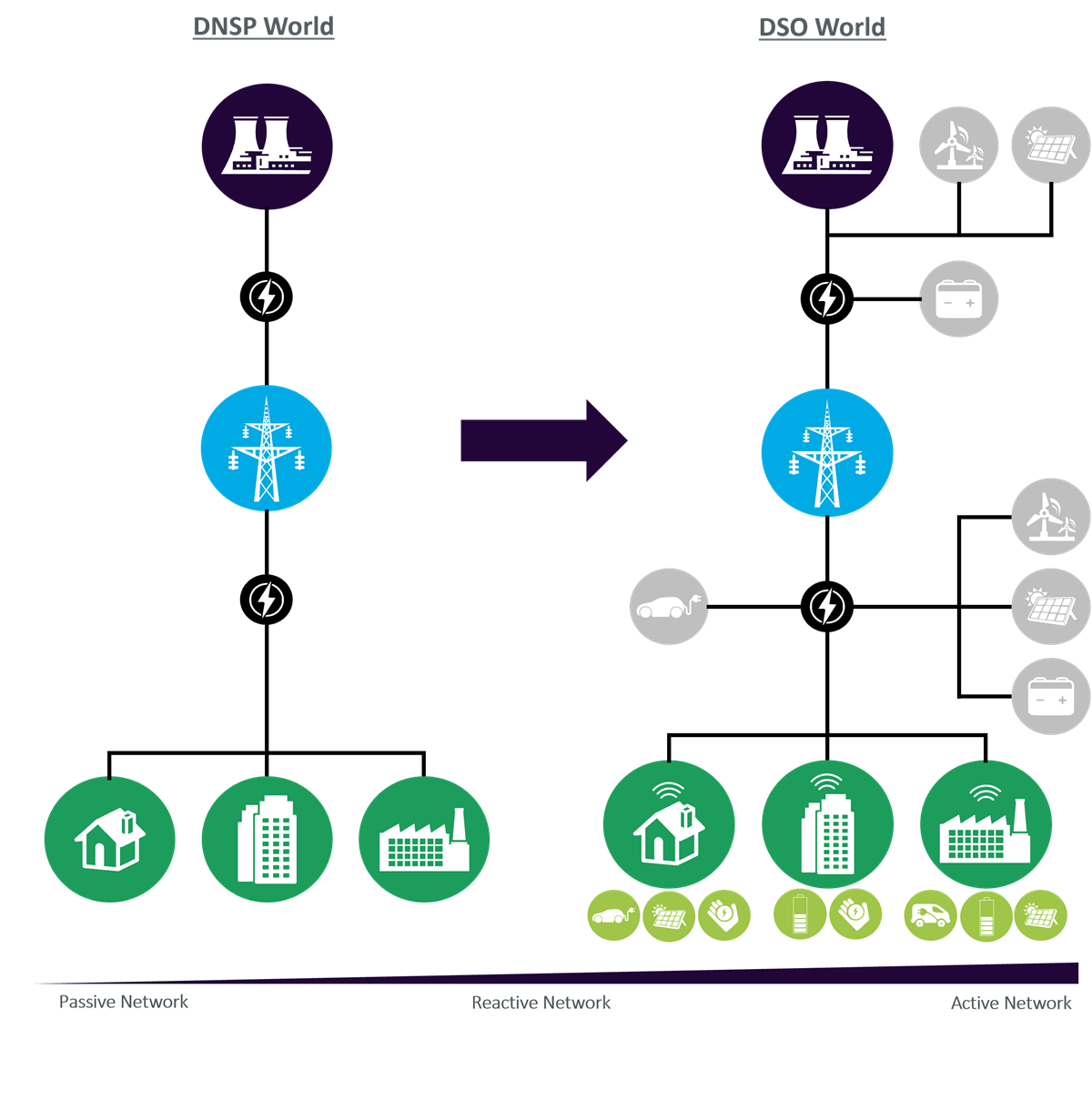 Transition from DNSP to DSO
EA Technology's Consultancy & Software activity helps determine strategic choices for those who own and operate energy networks. We provide industry leading solutions and professional services, to customers around the globe. We 'get' electrical networks from the assets up; we understand the differing drivers of our customers; and we understand the local context. Our tried and tested techniques help you optimise / prioritise investment, improve operational practice and deploy new solutions for your network. We also offer global expertise, customisable software tools and asset management solution tools to support the industry's transition to a decentralised, democratised, digitised and decarbonised world. 
EA Technology is positioned at the forefront of activities in Smart Grid development. Through our involvement in a wide range of innovative, smart grid projects, delivering a broad range of services covering all functional aspects of smart grid delivery. 
Our team brings a range of key strengths to this dynamic area including:
Proven ability to deliver highly complex, technical commissions to meet broad range of stakeholder requirements

 

Recognised, strategic experts in transitioning to the Smart Grid environment covering all aspects, from business models to technologies used

 

Benchmarking of innovation activity in the smart grid space, developing business cases, demonstrating value, and transferring best practice and learning from one company, or even country, to the next

 

An approach that brings a core understanding of international best practice, and makes best use of tools and outputs from other work in the space

 

Access to a wide range of technical specialists active in Smart Grid implementation

 and 

support 

DNSPs finding 

solutions which are 

technology agnostics, 

inter operable, 

and 

provide required 

access

 & control 

to the network customers.

 

Support

 

policy formulation 

which allows 

DNSPs to deliver

 best outcome

 to their customers with or without DER

 
---