Making Partial Discharge Discovery Simple Webinar
---
13 July 2021

EA Technology
Q&As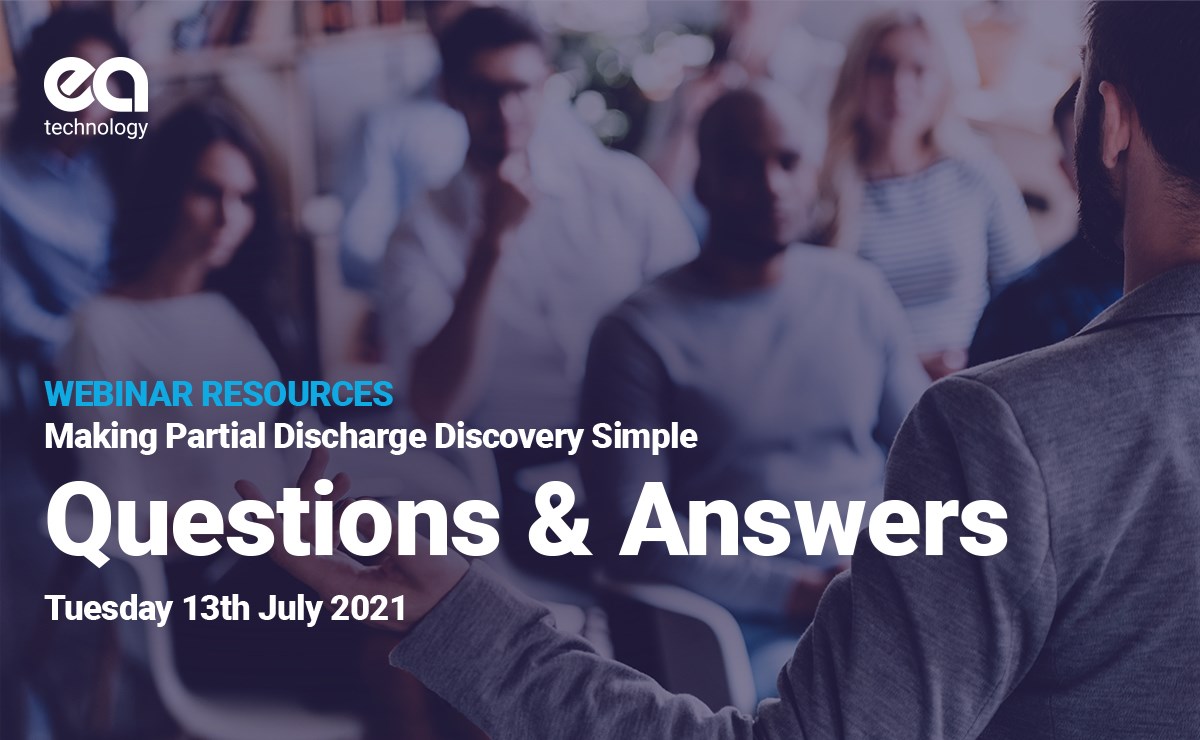 Q1: Can you detect PD while a cable is energised but without a load, i.e. has a voltage but not current?
In order to detect PD the cable must be energised but is not load dependant. 
Q2: Can we install HFCT on the cable while the system is live or is it not recommended?
Yes, the earth breakout should be safe to install a HFCT upon when the system is live.
Q3: What does a report from the Astute monitoring system look like?
By default, we do not provide a written report but use Power BI as a tool to report on analysis and insights from data analysis. Power BI is an interactive data visualisation/reporting tool that allows data from the Astute monitoring system to be visualised and updated daily while also containing our weekly analysis of the data. In addition, we also get in touch with the clients on exceptional cases where concerns have to be raised for further investigation or immediate intervention. This form of reporting usually is done by email or a phone call for urgent matters.
Q4: Do you still offer the parabolic dish with the UltraTEV plus?
Yes, we do, it is included in the level 3 kit.
Q5: Is the device suitable for outdoor switchgear (as in solar power plants)?
Yes, our UltraTEV kits can be used on outdoor accessories, depending upon the types of assets being used you may find the parabolic dish of particular use for overheard assets and also the UHF device.
Q6: Is there any limitation on where the TEV equipment can be used, for example, an outdoor open busbar 132KV dead tank or live tank circuit breakers or are they limited to specific types?
Our UltraTEV devices can be used on any asset and the varying kits offer different types of accessories to support this.
Q7: What is the best method to measure PD activity on 11kV cast resin transformers which are housed within cage/enclosure? Ultrasonic or TEV?
Our recommendation would be ultrasonic testing using the UltraDish contained within an UltraTEV kit 3.
Q8: Similar to above, what is the best method to measure PD on double skin MV switchgear panels?
Surface discharge has been detected previously using the contact probe on an UltraTEV, however, results are dependant upon the switchgear type. True double skin switchgear may have a vacuum effect which makes PD measurements difficult.
Q9: Examples of design issues causing PD
Typically this is where an insulating material may have been changed, i.e. ceramic/porcelain insulation changed with polymeric. Both materials have different breakdown strengths, and would therefore react differently to electrical stress. Other examples include changes in design where sharp edges may get introduced in high electrical stress areas.
Q10: Does the amount of load in the system affect the severity of the PD and its detectability?
No. PD is not load dependant, but the cable or asset does need to be energised.
Q11: Can you remind me what you said PD smelt of? I missed that?
Surface or Ultrasonic PD, if it gets severe enough will lead to the creation of ozone. This usually smells like chlorine/bleach, usually a sharp smell. 
Q12: Is there any guidance on what frequency PD should be checked?
Assets that are free from PD on the last survey should be surveyed again at least 12 months later. The frequency of surveys once you have discovered PD should increase accordingly, this should factor in the critical nature of the particular asset, whether there are additional safety concerns due to its location near a walkway for example and of course the levels of PD. As a general rule once we have discovered PD we would survey at least 6 months later, but this might be as frequent as every few weeks if the levels are in the high amber range or the asset is highly critical to performance. Astute monitoring is another option once PD has been discovered if the assets are critical. Something to remember is that PD will not resolve itself and carrying out frequent surveys is simply to understand how the problem is escalating and check it is safe to work in a given area.
Q13: How do you gauge when PD has become severe enough that remedial action is needed?
Each type of PD activity (Internal, Surface, and CablePD) have different threshold for each Red/Amber/Green classification. Below discusses condition for the Red category:
For TEV, immediate actions are required when the amplitude of TEV activity exceeded 29dBmV while having an indicative pattern of PD activity in Phase Resolved Diagram (PRPD).
For Ultrasonic (Surface), the threshold is 6dBµV, high % of Time PD Active (available in UTM or Astute), and audio samples containing "cracking sound" - an indicator of surface discharge activity. For Cable PD, the sources of activity are usually located within a cable joint and the threshold for this is generally around 7,500pC with indicative pattern of PD activity in PRPD. However, the threshold becomes much lower - 500pC - if the sources of activity are located within a cable section of a XLPE type.
Q14: For PD in OHL what is the range on the ultrasonic detection and how do you factor range when taking your readings in context?
There is no fixed range limit, it can depend on environmental conditions.  We find we can get readings comfortably within 20 meters or so, very rarely do we need to be any further away than that.
Q15: Can the astute HV monitoring system be moved between assets to allow PD tests to be carried out over a time period and then relocated to repeat the same test on another asset?
It is recommended to install an Astute monitoring system as a permanent monitoring solution. Moving the monitoring system around could lead to meaningful data not being captured at the right time. 
Q16: Does current load affect PD?
No, it does not, but the cable or asset does need to be energised.
Q17: A contractor carry out all of our site PD monitoring - are we ok to leave this activity to this contractor? They are very knowledgeable on the subject, should we be doing this testing ourselves?
We couldn't really comment on specific arrangements with a contractor. We find that many of our clients take control of the testing themselves as it is more cost-effective for their needs.  Some contract us to carry out all of their surveys and others use us ad-hoc if they feel they need a second opinion. Each circumstance varies and we are always open to having further conversations if you would like to explore the commercial value of doing your own testing.
Q18: Cost of the continuous monitoring sensors? Do they have a sim card and upload to a nemt based system for monitoring?
I assume the monitoring sensors in this question referred to Astute. For the Astute monitoring system, all data captured by the system is uploaded to our Astute cloud network where it will be held securely. By default, a 4G SIM Card is used for internet communication, however, the client's internal network is sometimes used if available within the substation.