7 Problems Visnet Hub can help solve
---
20 November 2020

EA Technology
2020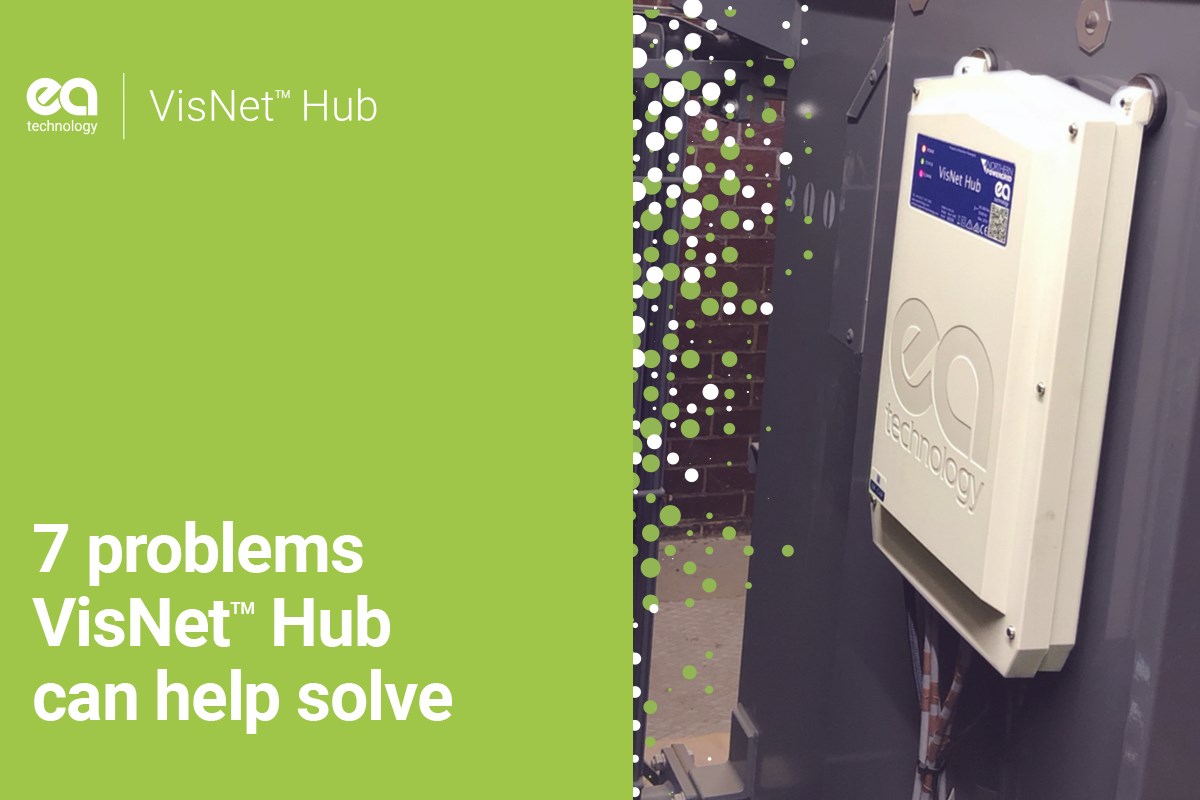 VisNetTM Hub is a radical approach to providing low voltage (LV) network visibility, providing valuable insight into the efficiency and optimisation of LV networks. If you're wondering how this exciting new tech can deliver strategic and tactical return on investment, here are seven problems VisNetTM Hub can help solve…
1. The LV network needs to support Net Zero
The LV network's ability to help facilitate the decarbonisation of transport has been a key concern in recent years, particularly as the ban on the sale of new petrol, diesel and hybrid cars will be implemented in countries around the world, in some cases as early as 2035-. Low-carbon technologies (LCT's) can bring complex network flow patterns into play, particularly as they can create unpredictable reverse power flows. VisNetTM Hub puts the focus on prioritising investment by making it possible to identify the weak spots in the grid – a vital step in the process of revitalising an ageing network in advance of Net Zero.
2. Adopting new strategies carries a risk
On a macro scale, as electricity companies experiment with different tactics, the clarity provided by VisNetTM Hub minimises the risk of introducing new approaches. With fresh insights into the behaviour of the LV network, electricity companies can begin work to adapt their networks to accommodate LCTs with increased confidence, thanks to a robust and future-proof data infrastructure.
3. Lack of visibility of secondary substation performance
There are millions of LV substations installed around the world, most of which are not closely monitored. Without real-time monitoring of distribution substations, there's a knowledge gap that makes it difficult to improve network efficiency and flexibility.
As the VisNetTM Hub monitors secondary substations, it checks the voltage and current data on every LV feeder and supplies information on load, faults and condition information across the network. This data is critical for electricity companies as they adapt their networks. With VisNetTM Hub, low-cost real-time insights become a reality.
4. Lack of warning when things go wrong
Without any warning systems in place, LV network failures come out of the blue. VisNetTM Hub is designed to operate with as much local processing and interpretation power as possible, undertaking automated data analysis that triggers text and email notifications as network issues arise.
5. Time delay on repairing faults
In a low voltage network, the amount of time it takes to get customers' power back can vary significantly, depending on how quickly the fault can be located. There isn't usually a back-up power supply, so quick fault detection and location is critical and this can be extremely problematic. With VisNetTM Hub, you get a real-time view of asset performance, as well as a historical view. If there's a problem, you can jump on it straight away.
6. Limited space for new equipment at substations
For ageing enclosed substations, lack of space can be restrictive when looking at installing additional equipment. VisNetTM Hub has a compact design, measuring a neat 430 x 266 x 71 mm (height x width x depth). As a result, it can slot in neatly in most set-ups. One hub can monitor six feeders and communicate via GPRS (2G/3G/4G).
7. Active Network Management requires LV network visibility
If you've got aspirations to adopt an Active Network Management approach, then you need to be able to see what's happening in your LV network. LV network visibility is a given for any organisation that wants to make serious progress in working towards a smarter grid. Read our ebook Transforming the Low Voltage Grid for a concise overview of the current state of play.
To find out more about how VisNetTM Hub could deliver for you, download our FAQs – or book a no-obligation demo to really get under the bonnet.