10% of Cheshire-based EA Technology running 13.1 miles for Maggie's
---
05 July 2018

EA Technology
2018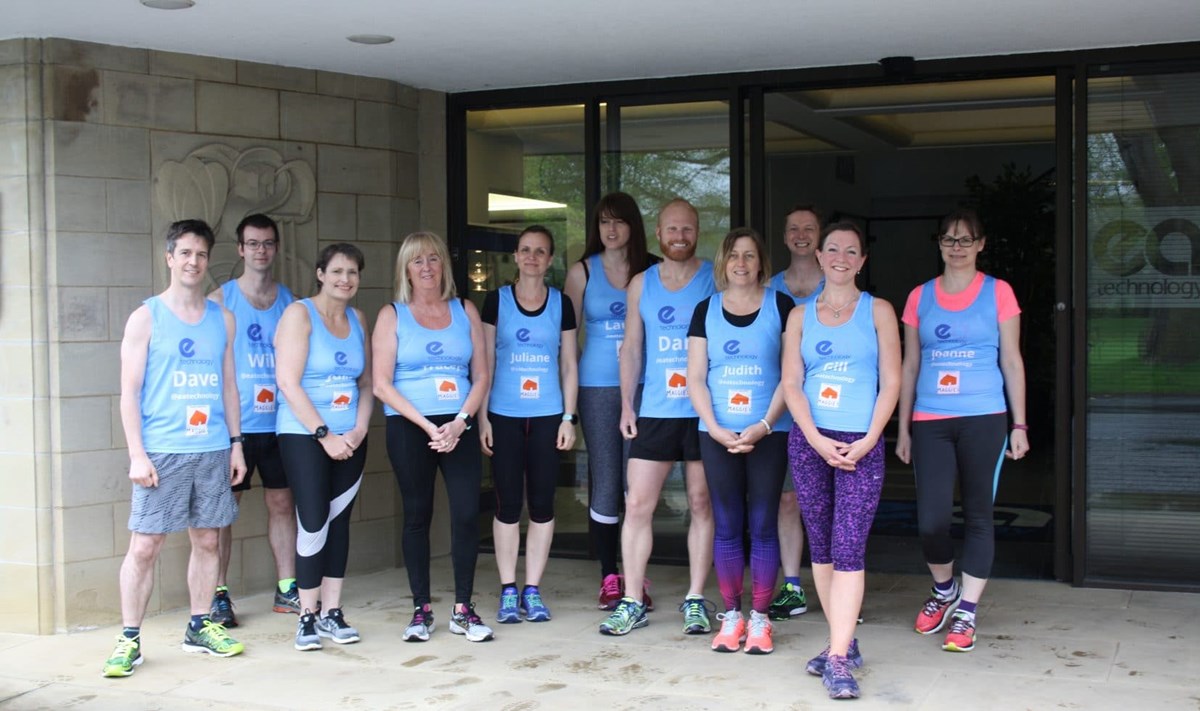 17 members of staff from power engineering company EA Technology are running the Chester Half Marathon on Sunday 29 April 2018
The team is running in aid of Maggie's Centres, uplifting places of support for those affected by cancer
The EA Technology runners have smashed their fundraising target – but want to do more to help their corporate charity: https://www.maggiescentres.org/about-maggies/
EA Technology is an employee owned SME, nestled in the country lanes of Capenhurst, a few miles outside of historic and Roman-esque Chester. A leading provider of electricity network solutions, such as developing the technology behind smart charging for electric cars, the company is now driving towards its first Chester Half Marathon. Fleet of foot, and having trained hard, an astonishing 10 percent of EA Technology's workforce will take to the streets of Chester on Sunday 29 April and run 13.1 miles in support of its corporate charity, Maggie's Centres.
EA Technology is running for Maggie's for good reason. In recent months a number of its colleagues or close family members have been diagnosed with cancer, facing tough questions, exhausting treatment and difficult emotions. These challenges affect not only those with cancer, but their families and friends too. Maggie's Centres are uplifting places with professional staff on hand to offer the support people need. Maggie's is there for everyone, offering a programme of support that has been shown to strengthen physical and emotional wellbeing.
The EA Technology staff taking part in the race range from seasoned ultra-runners, to absolute beginners who have trained determinedly to reach their first half marathon. One such person new to running is Julie Wynne. Julie is remarkable not only in that she is about to embark on her first major race – but she has recently battled cancer. Here is Julie's story.
"Having spent most of last year receiving treatment for breast cancer I was really grateful for the support that Maggie's offered at Clatterbridge. I dropped into Maggie's on a number of occasions to attend workshops such as 'look good, feel better', ask advice on various issues such as nutrition and travel insurance, and sometimes just to grab a friendly drink between appointments. When you are on an emotional rollercoaster you cannot underestimate the support that centres such as Maggie's offer."
Robert Davis, CEO of EA Technology comments: "It is amazing to see so many of our staff running for such a worthy cause, and Julie's example is both astonishing and humbling. All of us have been touched by cancer in some way. I'm proud to work for a company that is willing to come together in support of Maggie's, and for so many of our staff to give up their personal time to train for the Chester Half Marathon."
Kathy Wright, Centre Head at Maggie's at Clatterbridge, added: "We're thrilled the team at EA Technology is taking on the Chester Half Marathon in aid of our Centre – and we're all wishing them lots of luck for the big day. The money they've raised will make a huge difference to our Centre, allowing me and my team to offer support to people affected by cancer when they need it most. We rely on the generosity of our supporters to keep our doors open, and so we're so grateful to the team and everyone that's sponsored us for supporting our work. Hope it's a great event for everyone taking part, go team go!"
EA Technology's original target was to raise £1,000 for Maggie's. This has now been reached – but EA Technology wants to do more! You can help EA Technology raise even more money for this great cause by donating directly via the fundraising page:
https://www.justgiving.com/RunningforEATechnology.