Non-intrusive Tower Foundation Assessment
Maintaining the integrity of a steel tower overhead line is vital to ensuring reliability of the electricity transmission and distribution network, with a key component of the steel tower overhead line network being the concrete foundation.
Traditionally, tower foundations can be excavated to allow inspections to take place, however, this method can be disruptive, time-consuming and expensive.
The value of non-intrusive techniques is to provide general information on the state of foundations and identify individual towers within a group which are most likely to have suffered significant steel corrosion and/or below ground concrete damage.
Business Benefits
Cost-effectively prioritise the tower foundation inspections
Significantly reduce the number of excavation inspections
Identifying the towers at most risk of significant corrosion damage in the future
Concentrate limited resources on the most relevant towers
Increased confidence in the overall condition of the tower foundations for a given route.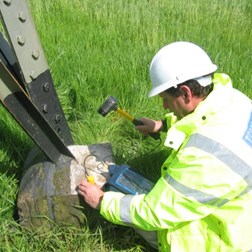 Assessment Methods
EA Technology has developed a selection of assessment methods that allow a certain degree of flexibility, which is essential due to the significant variation in foundation types across a typical operator's network. Different inspection methods can be selected depending upon the outcomes required. The individual inspection methods are as follows:
Visual inspections
Corrosion Current and Voltage Potential
Transient Dynamic Response and Time Echo Response
Soil Resistivity
Soil Chemistry
Redox Potential
Summary
The results of the inspections and measurements recorded can be combined and used to estimate the likelihood and rate of future corrosion, and therefore present recommendations regarding the need for excavations and/or refurbishment.
Condition ratings can then be applied to each tower leg in order to prioritise for excavation or remedial work, should it be required. All results are presented as colour-coded 'traffic lights', together with a photographic record of tower muffs to make it quick and easy to identify towers that are at risk.

Get in touch
Thank you for your interest in EA Technology. You can request information or a free callback by clicking the link below. One of our experts will be in touch with you shortly.
Enquire Now