Handheld Device
CableData® Collector
Cable asset managers around the world have a very real need to understand the condition of their ageing Medium and High Voltage (MV/HV) assets. The CableData® Collector (CDC) is designed to help in the management and, ultimately, the reliability of these cable networks.
Find out more:
The CableData Collector™ identifies and allows you to report on PD activity in LIVE MV/HV cable networks. This early identification helps to reduce the need for disruptive maintenance outages, by highlighting high risk areas in ample time for repairs and replacements to be made.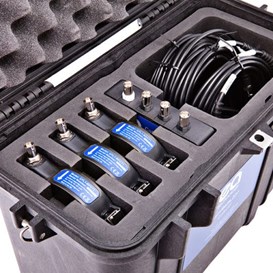 Benefits
Cost effective collection of accurate PD data without the deployment of specialist engineers
Collection of PD information from live MV/HV voltage cables eliminates the risk of expensive off-line testing
Quick assessment of a large number of cables to build up a total view of the condition of a distribution cable network
Prevents unplanned outages by identifying cable defects before they fail
Lightweight, portable and ready-to-use
Quickly highlights cables that require more detailed analysis techniques

Get in touch
Thank you for your interest in EA Technology. You can request information or a free callback by clicking the link below. One of our experts will be in touch with you shortly.
Enquire Now