Instrument
UltraTEV ®Plus²
Our most powerful online partial discharge test instrument is the 4th generation UltraTEV ®Plus². The UTP2 will help keep your electrical assets free of insulation failure
Find out more:
The UltraTEV Plus² is the latest advancement in the award winning UltraTEV™ range. This easy to use instrument incorporates additional sensing capabilities and real time advances analytical features enabling you to distinguish between true PD, noise and other interference allowing you to make better decisions while saving time and money and enhance the safety of your staff and your network.
The UltraTEV Plus2 guides you through the detection and analysis of Partial Discharge
The UltraTEV Plus² has been designed to make asset inspection easy. Using expertly designed classification algorithms the UltraTEV Plus² is able to help the operator understand the results, interpreting the data and displaying clear results on-screen so engineers know immediately the condition of the asset they are inspecting.
Capture results and transfer them easily
The UltraTEV Plus² can transfer asset measurement results directly to your PC or business network via USB, cable or SD Card. Together with this, the new survey functionality allows details of the substations and assets to be entered on the screen and guides people through a simple survey process.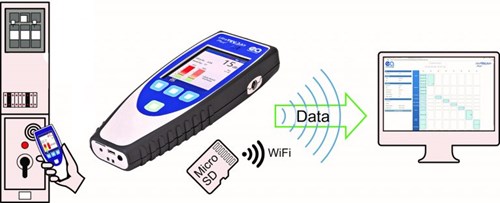 Benefits of the UltraTEV Plus²
Use the built-in PD classification and interpretation tools to detect problems early to avoid dangerous and damaging failures and minimize network downtime/outages
Optimize maintenance cycles and asset life through a better understanding of asset condition, comparing PD results over time to identify trends
Increase on-site productivity by rapidly collecting key condition information in an accurate and consistent manner using Survey mode and NFC asset tags
Detect PD in a wider range of assets with the inclusion of cable PD technology
Highly user friendly with little training required offering time and efficiency savings
"My company purchased and routinely utilizes the EA Technology UltraTEV ®Plus². The capability of the unit is remarkable. In multiple cases where I have conducted inspections; I've located and identified serious insulator breakdowns. In doing so we've successfully prevented catastrophic failures. Yes, customers then need an outage for repairs, but the uncontrolled failure of vital equipment is far more severe to life safety, equipment repairs, and longer down time."
Tim Conley
Senior Technical Advisor from CBS Field Services

Talk to an Expert
Thank you for your interest in EA Technology. You can request information or a free callback by clicking the link below. One of our experts will be in touch with you shortly.
Contact Us
---